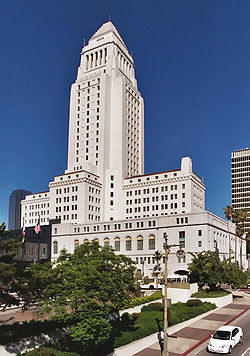 When I think of Los Angeles the city hall building is what I visualize

As a Los Angeles police officer I proudly wore the badge which displays the city hall image
SAMEDAY Courier provides messenger and delivery service to Los Angeles and the surrounding areas. Our Los Angeles
deliveries are always on time and accurate, regardless
of whether you are sending a small package or a large
piece of cargo. Providing professional on time service
to all our customers is the main focus of SAMEDAY
Courier. Our courier service consultants are always
available to assist you in determining which delivery
option suits your needs, and our couriers and messengers
are efficient, careful, and well-trained to deliver your
packages quickly and carefully.

Having a courier service you can trust is essential for
doing business in LA's fast-paced world. You can't
afford to spend time worrying about whether your
packages arrived safely and on time. With SAMEDAY
Courier immediate email or phone POD's "proof of
delivery" you will know when your package has arrived
and who received it.
SAMEDAY Courier can deliver medical Specimens, documents, legal documents, freight, white glove service...You name it anything is possible SAMEDAY Courier offers a range of services to make sure
your packages are delivered on time. In addition, SAMEDAY
Courier is available on weekends, holidays and nights.
They also offer economy and rush services, which allows
price flexibility when placing an order.

SAMEDAY Courier serves all California including Sacramento, Arizona, and Naples Florida.
SAMEDAY Messenger Service in Irvine serves all of Southern California Orange county, San Diego, Riverside, San Bernardino.
SAMEDAY Courier Los Angeles serves the greater LA area including: Beverly Hills, Bel Air, Hollywood, Westwood, Century City, Mid-Wilshire, West LA Culver City, Santa Monica, Venice, Manhattan Beach, Long Beach, Torrance, West Hills, Encino, Sherman Oaks, Tarzana, Calabasas, Malibu and Thousand Oaks.
For the best rates, superior service, most up to date technology, and simple piece of mind, give us a call direct at 949-230-4193 949-274-1071 Arizona 928-451-5555-Or Toll Free 888-311-1064 or 866.253-8192
Count on SAMEDAY Courier and Delivery For· Same Day Express Rush Northern Arizona California Sacramento Naples Florida and beyond · Overnight Deliveries· Routed/Pre-Scheduled Deliveries· Vehicles to serve you Box truck - Flat beds – Motor Cycles –Pick Ups-Cars· Bank Deposit Deliveries· Mail Retrieval & Deliver Service· Dedicated Driver By the Day Week Month· Passport Service· Medical· Legal· Process Service
SDC service areas are in the following Cities and Zip Codes: Aliso Viejo, Altadena, Anaheim, Anaheim Hills, Arcadia, Balboa, Beverly Hills, beverly hills, Benedict Canyon, Brea, Buena Park, Burbank, Capistrano Beach, Carlsbad, Carson, Cerro Villa Heights, Cerritos, Chino Hills, City of Orange, Coto de Caza, Costa Mesa, costa mesa,Corona Del Mar, corona del mar, Cowan Heights, Cypress, Culver City, Dana
Point, dana point, Del Mar, Diamond Bar, Disneyland, Dove Canyon, Downey, East Tustin, El Segundo, Encinitas, Fashion Island, fashion island, Foothill Ranch, Fountain Valley, Fullerton, Garden Grove, Harbor City, Hawthorne, Hermosa Beach, Hollywood, Huntington Beach, huntington beach, Irvine, John Wayne Airport, Katella, La Jolla, lajolla, Ladera Ranch, Laguna, Laguna Beach, Laguna Hills, Laguna Niguel, Laguna Woods, Lake Forest, Las Flores, La Verne, LAX, Lawndale,
Lemon Heights, Lomita, Long Beach, Los Angeles, los Angeles, Malibu, Manhattan Beach, Marina del Rey, marina del rey, Mission Viejo, Montebello, Monrovia, Newport Beach, Newport Center, Newport Coast, newport beach, Newport Heights, Nohl Ranch, Oceanside, Olympic, Orange,
Palos Verdes, palos verdes, Pasadena, Placentia, Rancho Palos Verdes, rancho palos verdes, Rancho Santa Margarita, Redondo Beach, Riverside, Rolling Hills, Rolling Hills Estates, rolling hills estates, Saddleback Valley, San Pedro, Santiago Canyon, Seal Beach, Santa Ana, Santa Ana Heights, San Clemente, San Diego, san diego, San Dimas, San Juan
Capistrano, San Mareno, Santa Monica, Sky Park Circle, sky park circle, South Coast Plaza, southcoastplaza, South Orange County, South Pasadena, Stanton, Studio City, Sunset,Torrance, Torrey Pines, Trabuco Canyon, Turtle Rock, Tustin, Tustin Ranch, Universal City, Venice, Villa Park, Wagon Wheel, West Hollywood, Westcliff, Westminster, Westwood, Wilshire, Whittier, Woodbridge, Yorba Linda, Partial Zip
Codes: 92609, 92610, 92625, 92626, 92660 Orange County they serve the
following Zip Codes. 90620, 90621, 90623, 90630, 90631, 90680, 90720,
90740, 92602, 92603, 92604, 92606, 92610, 92612, 92614, 92617, 92618,
92620, 92624, 92625, 92626, 92627, 92629, 92630, 92637, 92646, 92647,
92648, 92649, 92651, 92653, 92655, 92656, 92657, 92660, 92661, 92662,
92663, 92672, 92673, 92675, 92676, 92677, 92679, 92683, 92688, 92691,
92692, 92694, 92701, 92703, 92704, 92705, 92706, 92707, 92708, 92780,
92782, 92799, 92801, 92802, 92804, 92805, 92806, 92807, 92808, 92809,
92821, 92823, 92831, 92832, 92833, 92835, 92840, 92841, 92843, 92844,
92845, 92861, 92862, 92865, 92866, 92867, 92868, 92869, 92870, 92886,
92887, 92899, 90265, 90266, 90270, 90272, 90274, 90275, 90277, 90278,
90280, 90290, 90291, 90292, 90293, 90301, 90302, 90303, 90304, 90305,
90311, 90401, 90402, 90403, 90404, 90405, 90501, 90502, 90503, 90504,
90505, 90506, 90601, 90602, 90603, 90604, 90605, 90606, 90638, 90640,
90650, 90660, 90670, 90701, 90703, 90706, 90710, 90712, 90713, 90715,
90716, 90717, 90723, 90731, 90732, 90744, 90745, 90746, 90755, 90802,
90803, 90804, 90805, 90806, 90807, 90808, 90810, 90813, 90814, 90815,
90822, 90831, 90833, 90834, 90835, 91001, 91006, 91007, 91010, 91011,
91016, 91020, 91024, 91030, 91040, 91042, 91101, 91103, 91104, 91105,
91106, 91107, 91108, 91201, 91202, 91203, 91204, 91205, 91206, 91207,
91208, 91210, 91214, 91301, 91302, 91303, 91304, 91306, 91307, 91311,
91316, 91321, 91324, 91325, 91326, 91331, 91335, 91340, 91342, 91343,
91344, 91345, 91350, 91351, 91352, 91354, 91355, 91356, 91364, 91367,
91381, 91382, 91383, 91384, 91387, 91390, 91401, 91402, 91403, 91405,
91406, 91411, 91423, 91436, 91501, 91502, 91504, 91505, 91506, 91601,
91602, 91604, 91605, 91606, 91607, 91608, 91702, 91706, 91711, 91722,
91723, 91724, 91731, 91732, 91733, 91740, 91741, 91744, 91745, 91746,
91748, 91750, 91754, 91755, 91765, 91766, 91767, 91768, 91770, 91773,
91775, 91776, 91780, 91789, 91790, 91791, 91792, 91801, 91803, 91804,
93510, 93532, 93534, 93535, 93536, 93543, 93544, 93550, 93551, 93552,
93553, 93563, 93591